Interval Player
Music Playing Android™ App for Interval Training
Interval Player enables you to time your interval sessions using music. Design sessions to meet your training objectives and select the music which will motivate you.

The Interval Player Story
I started work on Interval Player after spending a lot of time editing songs together to make interval sessions for my own use, two minutes of a high energy song, one minute of a slow one, then back to the fast one and so on. It wasn't quick and it wasn't fun! I decided I could write an app which would do it for me. This wasn't quick either, but it was a lot more fun! After 9 months I had something I could use myself. A few months of polishing later and its ready for the big wide world!
I've used Interval Player for both running (indoors and outdoors) and cycling (on gym bikes). It comes preloaded with 4 sessions which can be removed if you don't want them and you can design your own sessions with whatever length intervals you want. You can select songs for the fast and slow sections from music you've got on your phone or tablet.
Features

Select your own music
Interval lengths from 5 seconds to over 5 hours!
Optional Warm Ups of whatever duration you choose
Pause the session
Stop the session
Mute the music but still use the timer
Lock the buttons but keep the screen visible
Session statistics shown at the end of the session to show what you achieved
Preloaded with four sessions, Sprint Training, Aerobic Intervals, the Tabata Protocol and Maximum Oxygen Use.

Any Questions?
Email Us: admin@intervalplayer.com
Thanks to...
My wife who was the first person to use Interval Player other than me.
Jon Keays who beta tested the app. He's an excellent web developer and designer, take a look at his website: jonkeays.co.uk
Jon W, another beta tester, who managed to find problems which three people had already missed!
How to use Interval Player
Interval Player Home Screen
When you open Interval Player you will see the home screen with the stored interval sessions. Before you can use one of them you need to swipe to next two screens to select fast and slow songs from music you have on your mobile or tablet. If you don't have any music then you'll need to download some or transfer some from your computer. The cross button will remove sessions you don't want.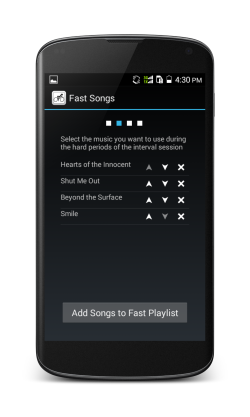 Fast and Slow Songs Screens
On the "Fast Songs" and "Slow Songs" screens click on the "Add Songs" button at the bottom of the screen to see a list of your music, when you've selected some songs click the "Add Selected Songs" button to add the songs to the playlist. On the "Fast Songs" and "Slow Songs" screens you can use the arrows to change the order of the songs or the cross button to remove any you don't want.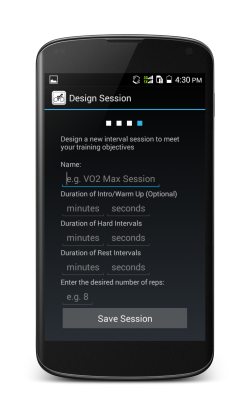 Design Session Screen
The fourth screen you can swipe to is the "Design Session" screen, here you can design your own interval sessions. You need to give each session a name. A warm up is optional but recommended both to reduce the risk of injury and to give you time to put the device in your pocket after pressing play! All intervals have to be greater than 5 seconds.
Play Session Screen
The final screen is the "Play Session" screen, if you click on one of the sessions in the home screen you will come here. It functions much like a music player with play/pause, stop, mute and lock. Play/Pause is useful if you get interrupted. Stop allows you to cancel a session before the end. Mute allows you to continue the session without the music, useful if someone wants to talk to you while you're in the middle of a session. The lock button locks the on screen buttons, the back button and the menu button. The home button will continue to work as this is a security feature of the Android platform to prevent apps taking control of your phone! Use the slider to unlock the screen.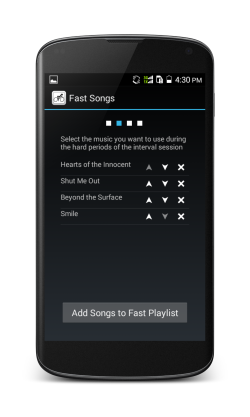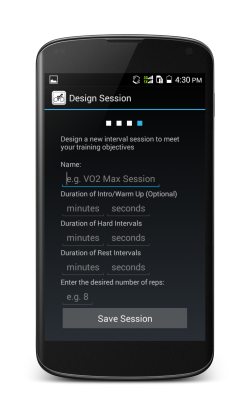 Interval Player Demo